Joan D. Adkins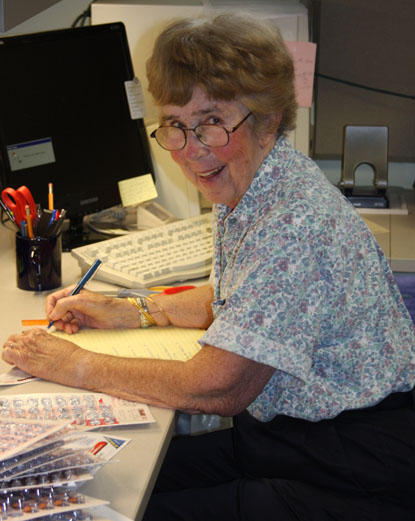 Joan D. Adkins the wife of E. Max Adkins was instrumental in the foundation of Dayspring Village, Inc. The name Dayspring was given to Joan from Isaiah and she has been instrumental in shaping the ongoing Christian Life Ministry that is a big part of day to day life for the residents.
Joan works to help with the Secret Santa Program and for many years would create her own Christmas Stockings packed with gifts and goodies for the residents.
The homeless outreach at Dayspring Village stems in large part from Joan's influence on our mission and the need for us to help those in crisis and provide shelter, clothing and assistance to those who have no where else to go.
Joan was born in India to Freda and I.N."Jimmy" James and had a sister Ann Willis and many nieces and nephew both here in the United States, Canada and Great Britian. You can find Joan volunteering today at DSV by helping the staff, creating curtain for the residents or hosting prayer on the grounds for those who need a kind word.
Joan has travelled the world with Max Adkins and has spent time in many countries working with the less fortunate and drawing out those that would come and hear the words of the gospel according to Jesus Christ.